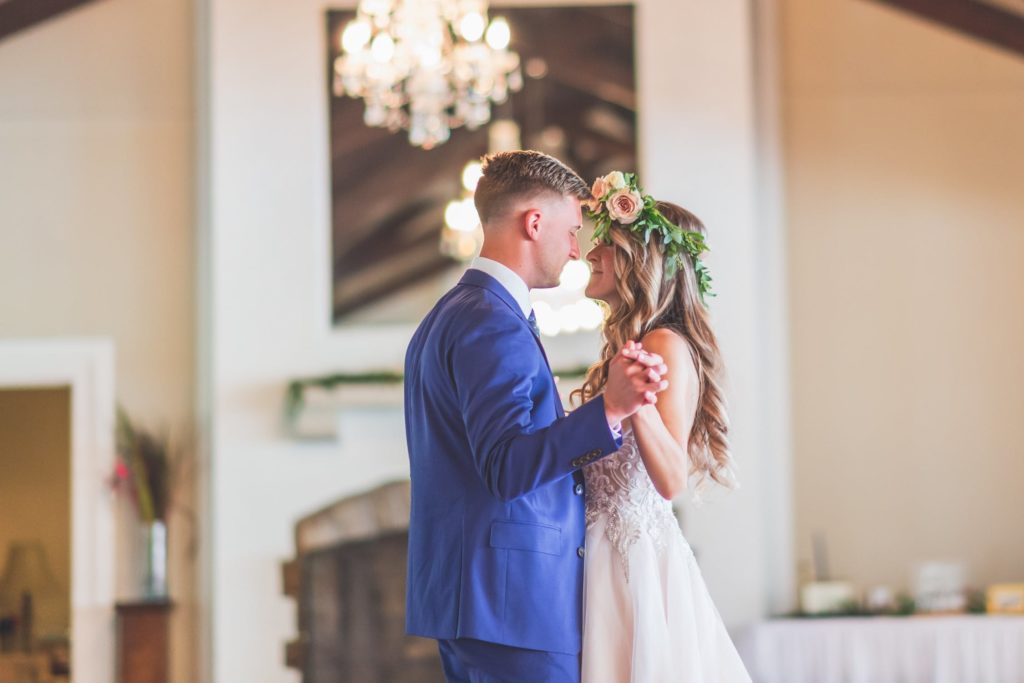 How To Match Your Wedding Hairstyle With Your Dress
Wedding dress shopping is the most fun of all the wedding chores, and how you look can make all that stress worth it! After you've chosen the perfect dress for your big day, it's time to think about how you can match your wedding hairstyle with your dress. Whether it's up, down, or somewhere in between, the hair does a lot to accentuate the cut of the neckline, the flow of the dress, and even the material from which the dress is made!
Necklines And Your Hairstyle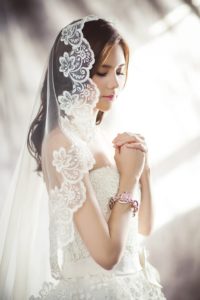 If you've purchased a dress or know definitively what the style will be, it's now time to choose whether the hair will be up, down or both. Down is more relaxed and can frame your face and neck well; up is more formal and romantic; and half-up, half-down can go either way! Much of your choice to match your wedding hairstyle with your dress depends on the neckline of the dress.
Some of these choices will be evident. When the dress has a high neckline, you'll want an updo to keep the hair away from your face and neck. Have your stylist show you the updo from all angles. While you might like what you see in the mirror, some of the other details might come as an unwelcome surprise.
Those who love romantic gowns with sweetheart necklines or bohemian dresses with floral accents should consider a braided hairstyle. The braids can add a nice amount of elegance, and they go with any personality, style, and mood. A smooth braided bun is ideal for a traditional ceremony, whereas a half-up, half-down waterfall is a great look for a casual beach destination wedding.
The bateau or boat neckline is best paired with an updo that is off the shoulders. This line shows off the neck, collarbone, and shoulders, and you'll want to keep the hair away. A side bun is a fashionable choice, especially if it's balanced with an accessory. For women with natural curls, those tresses in an updo will work in harmony with the bateau neckline.
Match Your Wedding Hairstyle with Your Dress Using The Full Dress Design
Open dresses are open for interpretation. If it's strapless, having your hair up or down is best determined the look you want to give off. If it's an open back, however, you'll want to keep hair away from the V, either with hair that is down and side-swept or up and away.
Light, airy dress designs and materials pair exceptionally with a half-up, half-down style that is soft and loose. An off-the-shoulder neckline also works well with a very soft, feminine style, and you'll want this effect if the dress includes plenty of lace or tulle.
Vintage is in right now, so for women opting for a tea-length gown and lots of lace a la the Jazz Age and The Great Gatsby, go with either an upswept 21st Century pompadour or finger waves. Don't be afraid to have us add any jeweled clips, feathers, or any other retro accessories into the style!
Picking The Hair Before The Dress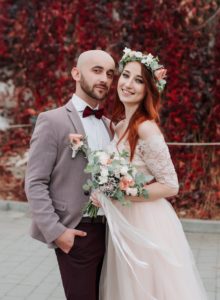 If you're someone defined by a specific part of your hair, like the colour, length, or texture, you might want to work backwards and pick a dress based on your preferred hairstyle in order to match your wedding hairstyle with your dress. Women with long hair who like to braid it should lean towards a dramatic back opening or a low cut that shows off the shoulders.
If you're a bride-to-be with short hair, use your ability to show off the back and go with an intricately-detailed gown. You can add a headpiece that works with your hairstyle, but go natural by avoiding extensions. Those with short hair should skip the long, overwhelming veil and go with a birdcage style affixed to a pillbox hat. It can be a daring look, but daring makes you more unique, too.
When you have the perfect dress and need a hairstyle to go with it, book a wedding hair trial with one of the Scizzorhands stylists and bring a picture of you in the dress. We'll show you your options and help you make an exquisite choice long before you walk down the aisle!